JIB Awards: Voting has begun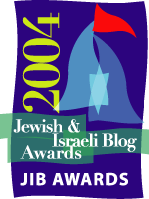 Folks, the polls for the preliminary round of voting have opened for the JIB Awards and Smooth Stone has been nominated in one category, Best Israel Advocacy Blog. Smooth Stone is up against some tough competition from both the Left wing and Right leaning camps of Israel advocacy, but like we said last week, we're just delighted that we were even nominated.
So, go and head on over to place your vote for Smooth Stone and tell all your friends to vote for us too.